House Speaker Aims to Expel Gates; Arkansas Lawmaker Faces Expulsion Due to Tax Plea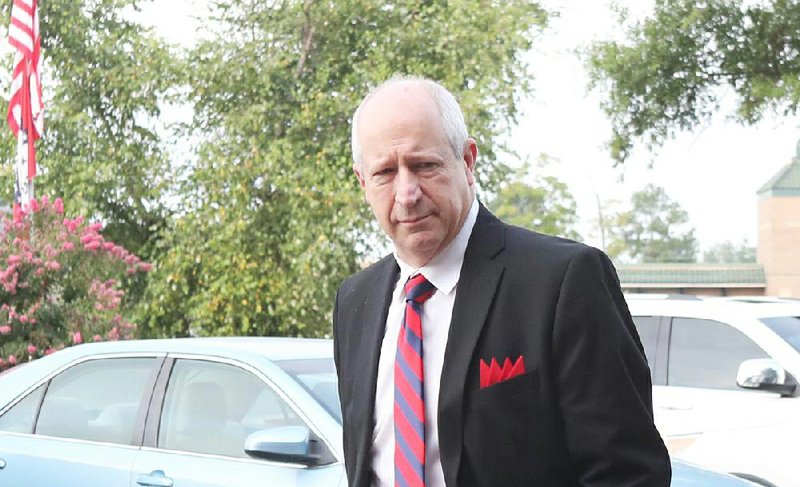 A formal resolution, which was filed in the House of Representatives on Friday, requests that one of the lawmakers be expelled from the chamber. That is the first such case in over a century.
Plans to discharge Mickey Gates of Hot Springs, a Republican, were initiated over the course of last week, following the announcement made by a Republican House Speaker, Matthew Shepherd of El Dorado. In the cited announcement, Shepherd stated that he would file a resolution to expel Gates due to his appeal against a charge that he did not pay state income taxes.
Despite Shepherd filing the resolution regarding the expulsion on Friday, he did not set a deadline for gathering other members of the House in Little Rock in order to consider the issue. According to his statement, he, along with House assistants, is currently considering the next steps.
Gates has declined requests made by the state's Republican leadership to resign after entering a plea of no contest to the charge in July. Gate's attorney stated on Friday that Gates was preparing to run for re-election in spite of the outcome of the expulsion effort.
Gates never returned a message left on his voicemail on Friday afternoon.
For Gates to be expelled, two-thirds of the House needs to vote for Shepherd's resolution, thus assembling a list of 67 votes in total. Democratic and Republican leaders alike announced on Friday that approximately that number of members supported Gates' removal from the House.
House GOP, Whip Brandt Smith of Jonesboro, a Republican, stated that although the majority of 76 members of the House in total were in favor of Gates' removal, some of them had previously hesitated to publicly expel a colleague.
Smith said that he presumed the expulsion resolution would be approved by the majority regardless, but admitted that a different outcome was also possible.
Fredrick Love of Little Rock, a Democrat and the House Minority Leader, stated that, in his opinion, a total of 23 Democrats were united in a goal to expel Gates. One member of the House, a Democratic representative-elect is currently absent but is supposed to be sworn in by the end of the year.
Gates' removal may incite a legal conflict, especially if it prevents him from running for re-election, according to Jeff Rosenzweig, Gates' attorney, who made a statement on Friday.
Although the state constitution on which the resolution is based dates back to 1874, no member is known to have ever been removed under its parameters. Therefore, Gates' eventual expulsion might serve as a test case for the system. The removal of House Speaker John Wilson in 1837 for murdering another member on the House floor precedes the ongoing constitution.
When a member is expelled with corruption as the reason, they become unqualified to serve in the Legislature under Article 5, Section 12 of the Arkansas Constitution. As stated by Rosenzweig, Gates' case does not qualify as corruption.
House Speaker Shepherd stated on Friday that the resolution spoke for itself.
House Resolution 1079 was filed on Friday afternoon. It is based on the grounds that a member cannot serve after being found guilty of committing an infamous crime, inclusive of any kind of felony, according to the Arkansas Constitution and a general arrangement that enables the House to remove a member provided that two-thirds of all members support such a resolution.
It is stated in the resolution that Gates' plea deal is punishable by the House of Representatives and is, therefore, the reason for his expulsion.
Rosenzweig has claimed that Act 894 of 2019 is not in accordance with the constitution.
Aside from receiving probation, Gates received an order to pay $74,789 in overdue taxes as an outcome of his appeal. If Gates manages to finish the term of his verdict, his case may be dismissed with no final pronouncement of guilt under the first offender law of the state.
Gates has suggested that since his case might eventually be cleared with no final pronouncement of guilt, his plea deal does not qualify for a conviction that would prevent him from serving, as implied by the Arkansas Constitution. Although Act 894 would mean a prohibition, Rosenzweig argues that the act in question represents a violation of the Arkansas Constitution because of its requirements.
As if it were anticipating the previously cited argument made by Rosenzweig, the speaker's resolution stated that Act 894 was not a principal argument for the action the decision requires.
As stated in the resolution, an action that has been taken with the purpose of punishing Representative Gates compatible with it has been taken according to the power the Arkansas Constitution has granted the House of Representatives, making it the only authority qualified to discipline its members.
While commenting on the resolution, Rosenzweig stated that it implicitly agreed that Act 894 was not in accordance with the constitution concerning Representative Gates.
According to Rosenzweig, even though the House has somewhat broad abilities, it is prohibited by the constitution that the same person gets removed twice because of the same charges. Rosenzweig concluded by saying that Gates is able to run for re-election and that the House will not be able to expel him again on the same grounds, provided that he wins.
In spite of public accusations regarding his failing to file his state income tax returns for over a decade, Gates ran for re-election last year and managed to win. At that time, it was claimed by the state that Gates was indebted to the state for $259,841 in taxes.
Even though Republican Governor Asa Hutchinson, Lieutenant Governor Tim Griffin, and Attorney General Leslie Rutledge all demanded his resignation, Gates won re-election.
Gates and the other candidates alike are obliged to announce for the District 22 seat in November. The general election will take place in November 2020, preceded by the primary in March.
Gates was arrested, and he appealed during an investigation of federal public corruption. As the investigation was concluded, six former legislators were convicted. Two members who were accused while in office resigned.